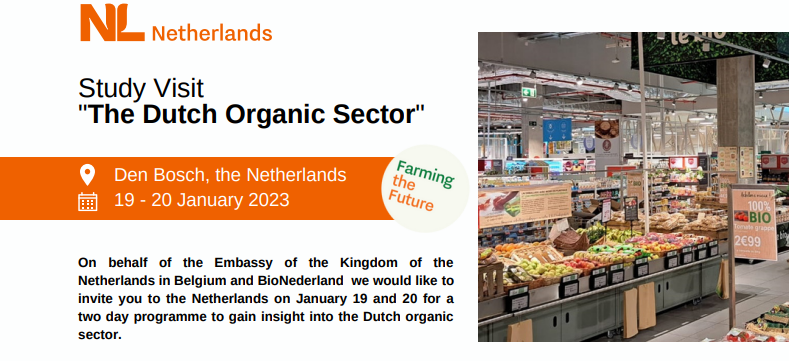 The Luxembourg Chamber of Commerce would like to draw your attention to the study visit "The Dutch Bio Sector", organised by the Embassy of the Kingdom of the Netherlands in Belgium and BioNederland.

The Embassy of the Kingdom of the Netherlands in Belgium and BioNederland are organizing a two-day study visit to the Netherlands in the topic of the organic sector. This event will focus on how to jointly increase the total supply of organic products and how to assist each other in the development of the organic processing industry.

The kick-off will be during the BIO Expo, held in Den Bosch, where the entire organic sector of the Netherlands will meet. Also, the Dutch government will present their multi-year national plan for the organic industry. The perfect opportunity to meet important players within the sector, as well as learning about the governmental perspective shaping the future of the Dutch organic sector.

Besides the BIO Expo, visits of several organizations & companies on the second day as well as meetings with policymakers of regional authorities, the processing industry, and major players within retail and wholesale such as UDEA are previewed.

What? Study Trip
When? 19-20 January 2023
Where? Den Bosch, the Netherlands

This event is offered by the Dutch government, meaning the entire programme will be free of charge. However, the travel and accommodation costs are at your own account.
Kindly note that there are only 8 places available and a minibus might be organized based on the number of interested participants. The recommendations on hotels will follow if case of interest.

Interested? Please register before 16 January 2023 (registrations are performed on the "first come, first served" basis).

PROGRAMME

REGISTRATION

This event is organised by the Luxembourg Chamber of Commerce and Export Partner.
---
Attachments
STUDY_VISIT_TO_THE_NETHERLANDS_19-20.01.2023_PROGRAMME.pdf
PDF • 197 KB
STUDY_VISIT_TO_THE_NETHERLANDS_19-20.01.2023_FLYER.pdf
PDF • 552 KB