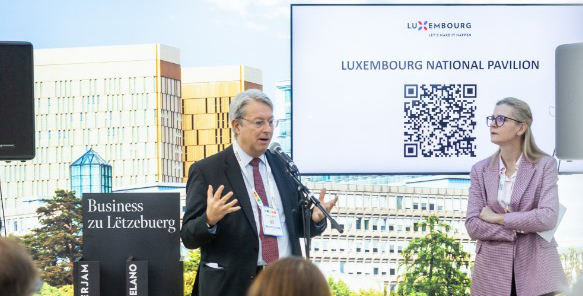 La Chambre de Commerce et le Ministère de l'Economie ont organisé du 7 au 9 novembre 2023, le pavillon national au salon Smart City Expo World Congress de Barcelone, salon international majeur dédié aux villes et à l'innovation urbaine.
Les villes du monde entier sont confrontées à des défis majeurs liés à l'urbanisation rapide, les changements climatiques, la mobilité, la gouvernance ou encore l'inclusion. Face à ces défis, le salon Smart City Expo World Congress constitue la plateforme idéale afin de présenter des mesures concrètes qui permettent de créer des lieux de vie plus sûrs et plus durables pour les citoyens. En effet, grâce à la partie exposition, où les entreprises présentent leurs solutions et produits, et aux multiples tables rondes et sessions de conférence, des collaborations accrues et partenariats entre partenaires publics et privés ont été présentés.
Au total, l'édition de 2023 a accueilli plus de 1.000 exposants et 25.000 visiteurs (en hausse de 30% par rapport à 2022) en provenance de plus de 140 pays ainsi que la participation de plus de 800 villes, constituant de fait la plus importante édition du salon depuis sa création.
15 entreprises y ont représenté le savoir-faire et l'expertise du Luxembourg en participant au pavillon national : 5G-A, adwaisEO, Alma Development, Arcelor Mittal, Augment, CDEC, Data Design Engineering, GCore, Luxembourg Institue of Science and Technology, Luxprovide, Post Telecom, Properties Solutions, RMS, Savvy Mobility, Weo Water.
Au-delà des opportunités de matchmaking proposées par l'organisateur, un programme dense était proposé aux exposants luxembourgeois, incluant la traditionnelle réception officielle du Luxembourg organisée en présence de S.E. M. Christian Biever, Ambassadeur du Luxembourg en Espagne et de Mme Cindy Tereba, Directrice des Affaires Internationales de la Chambre de Commerce du Luxembourg. Mais également un atelier qui avait pour thématique « Set Up and Grow Your Innovative Business from the Heart of Europe » organisé par Luxinnovation et Startup Luxembourg, ou l'accueil d'une délégation d'entreprises de Taïwan qui a donné lieu à l'organisation de rendez-vous B2B avec une sélection d'exposants.
La prochaine édition du salon Smart City Expo World Congress sera organisée du 5 au 7 novembre 2024 à Barcelone. Vous pouvez d'ores et déjà vous y inscrire ici, ou contacter l'équipe en charge des pavillons nationaux au sein des Affaires Internationales de la Chambre de Commerce (tradefairs@cc.lu – Tél. : +352 42 39 39 – 360).