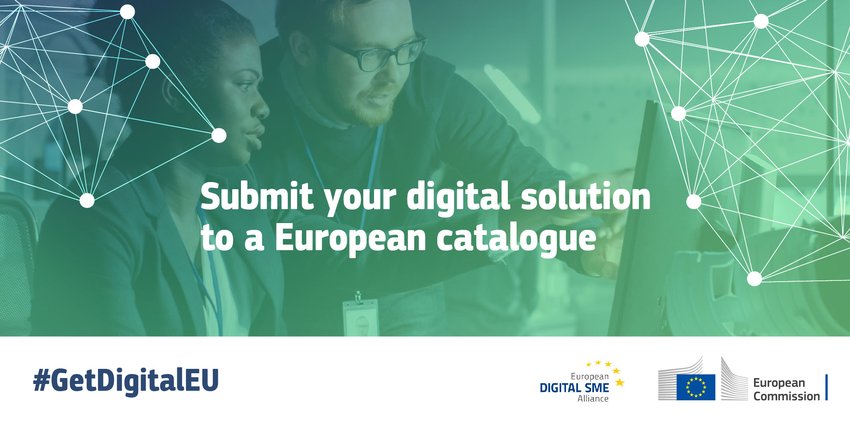 The project "Get Digital: Go Green & Be Resilient" aims to promote innovative digital solutions "made in Europe" and help further mainstream them, including by helping uncover and address remaining barriers to digitalisation.
The main objectives are:
Mobilising and offering practical support to SMEs offering digital solutions;
Mainstreaming digital business models that have game-changing, positive effects on the competitiveness, resilience and sustainability of the EU economy across the ecosystems;
Identifying concrete barriers to scalability of such digital solutions, with the view to subsequently tackle those barriers.
How will it work:
Companies should submit their proposal by clicking here.
They will then appear in the digital catalogue.
The selected companies will be able to present their solutions at one of the two workshops (one more focused on sustainability and one on supply chain resilience).
You will find more information here.
The call will be broadly promoted via the European business support network of the European Commission "Enterprise Europe Network" and other networks (including the Industrial Forum, Clusters, EIC, EIT, the DIH etc) and it will be addressed to SMEs from the EU, as well as from Ukraine, Moldova and Georgia. The idea is to help creating through the project an EU-wide catalogue of digital use cases, with a focus on sustainability and resilience and help the European Commission with a more concrete identification of barriers.
"Get Digital: Go Green & Be Resilient" is an initiative of European Commission's Department for Internal Market (DG GROW) alongside DIGITAL SME and the European Innovation Council and SMEs Executive Agency (EISMEA).
For more information, please contact:
Ms Amrita Singh
Senior International Affairs Advisor, EU Services & Cooperations
T. +352 42 39 39 377
E. een@cc.lu