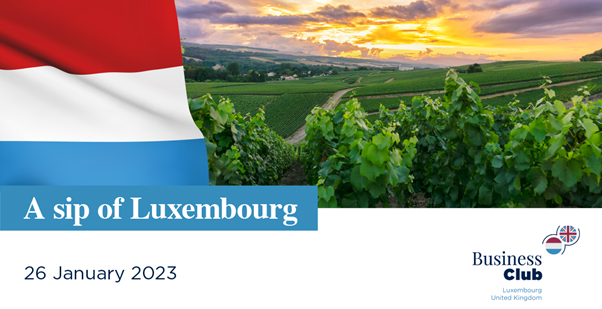 The Business Club Luxembourg-United Kingdom (BCLUK) in collaboration with the Luxembourg Chamber of Commerce and the Embassy of Luxembourg in London hosted a successful first "A Sip of Luxembourg" event in London.
Luxembourg offers a wide range of flavours for its small territory, white wine and crémant have been locally produced since ancient times, cider and fine spirits are made from fresh fruit picked from local orchards, in addition to being home to many traditional and micro beer breweries.
On the 26th of January 2023, seven beverage producers from Luxembourg were given the opportunity to showcase their products at Europe House in St James to members of the BCLUK, diplomats, as well as a captive audience of potential customers and industry experts.
Attendees were treated to a range of high-quality products, including white wine and crémant from Domaine Henri Ruppert, Domaine Claude Bentz and Caves Bernard-Massard, cider from Ramborn and gin from Ginix, as well as beer brewed by Brasserie Nationale and Wolff Brewing. The variety of drinks on offer allowed attendees to sample the best that Luxembourg has to offer and discover new and exciting products.
The event was a great example of the BCLUK's commitment to fostering relationships between businesses in the two countries and the club is is looking forward to hosting more events in the future, promoting the best of Luxembourg and the UK and providing opportunities for businesses in both countries to network and grow.