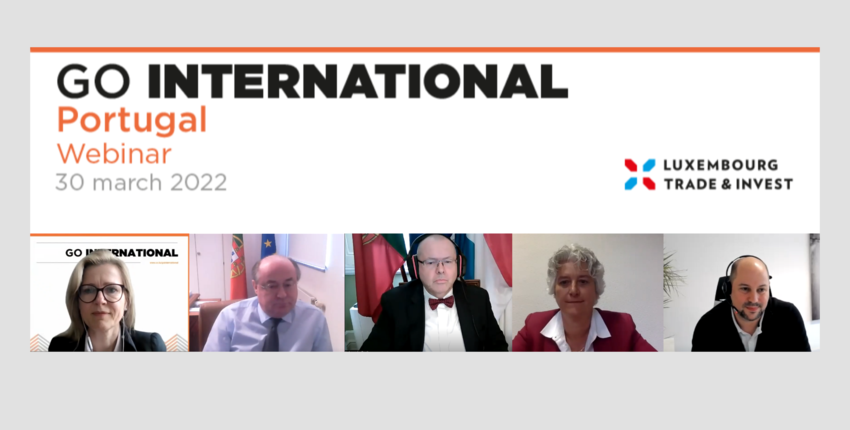 On 30 March, the Luxembourg Chamber of Commerce hosted the "Go International: Portugal" webinar, in close collaboration with the Embassy of Portugal in Luxembourg, the Embassy of Luxembourg in Portugal and the Belgian-Luxembourg Chamber of Commerce in Lisbon.
This live event was part of the Go International webinars series, aimed at introducing and updating on recent developments and opportunities in foreign markets. This edition was highlighting Portugal as a potential destination for Luxembourg companies interested in doing business in the fields of ICT, Tech, Sustainable Construction, Finance, Space, Tourism and many others.
The webinar was opened by Mrs. Cindy Tereba, Director of International Affairs, who mentioned the upcoming Official Mission to Portugal (10-13 May 2022) as a unique opportunity for Luxembourgish companies to develop their activities, find new partners and prospects in Portugal. "This major event will be crucial in the consolidation of our efforts to boost our bilateral economic relations. The Chamber of Commerce is committed to make this mission the perfect platform for Luxembourgish companies to further develop their links with Portugal".
H.E. Mr. Conrad Bruch, Ambassador of Luxembourg in Portugal and H.E. Mr. Antonio Gamito made official addresses in which they gave insight on the current bilateral relations and the potential for further economic developments between the two countries.
Mrs. Chantal Sohier, President of the Belgium-Luxembourg Chamber of Commerce in Lisbon gave a presentation of the entity's role in helping Luxembourgish companies settling in Portugal. With a presence in both Porto and Lisbon, the Chamber accommodates its members by providing access to a wide network of international companies active in Portugal, various thematic working groups and sectorial events.
Mr. Roman Entinger, CEO of Losch Digital Lab (Porto), introduced the company's activities and business model. As part of the Losch Group, the Portuguese subsidiary develops new sets of products related with the automotive industry, based on the knowledge of hundreds of people who deal with it every day at Losch. With over 30 engineers employed locally, this testimonial is a great example of bilateral collaboration between Luxembourg and Portugal.
Go International Portugal from Luxembourg Chamber of Commerce on Vimeo.
If you are interested in joining the Official Mission to Portugal (10-13 May 2022), please feel free to contact us. More details can be found in our online agenda.
If you missed this webinar or previous ones, please note that you can find recordings of all our webinars online.