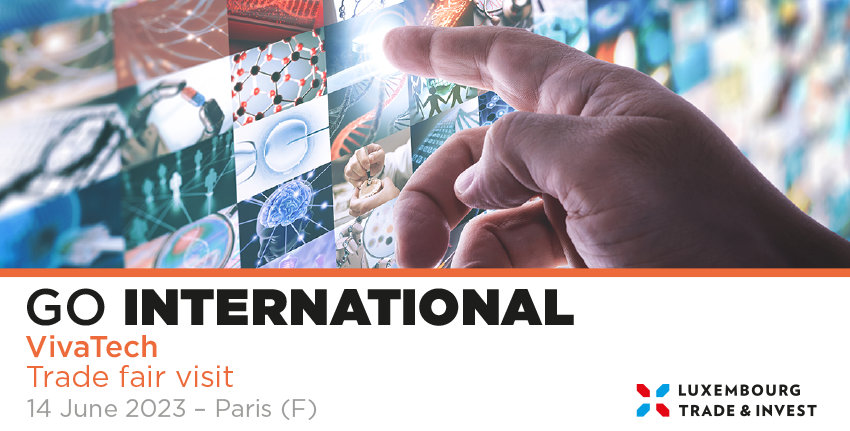 The Luxembourg Chamber of Commerce in collaboration with Startup Luxembourg invites you to participate in the Trade Fair Visit to VivaTechnology Paris.

As one of Europe's biggest startup and tech event acting as a catalyst for digital transformation, VivaTechnology brings together innovative actors to ignite positive change in businesses and for society. It accelerates innovation by connecting startups, leaders major corporations and investors and represents the ideal place to discover the latest tech trends through its inspiring panoply of speakers.
When? 14 June 2023
Where? Parc de Versailles, Paris
This visit is organised in the presence of Mr Franz Fayot, Minister of the Economy and Mr Fernand Ernster, President of the Luxembourg Chamber of Commerce.

Even though the trade fair visit is organised over 1 day, the entrance ticket to the Vivatechnology is valid for all the days of the trade fair. Participants are free to stay longer and participate in additional days of the fair.

Preferential price
150 EUR / Startup Full Pass (instead of 210 EUR excluding VAT)
250 EUR / Attendee Full Pass (instead of 475 EUR excluding VAT)

As the number of preferential tickets is limited, the "first come, first served" principle will be applied.
Interested? Please register before 26 May 2023.

PROGRAMME
Please contact:
Ms Amrita Singh
Senior International Affairs Advisor
T.+352 42 39 39 377
E. amrita.singh@cc.lu
---
Attachments
VIVATECH_TFV_PROGRAMME.pdf
PDF • 215 KB