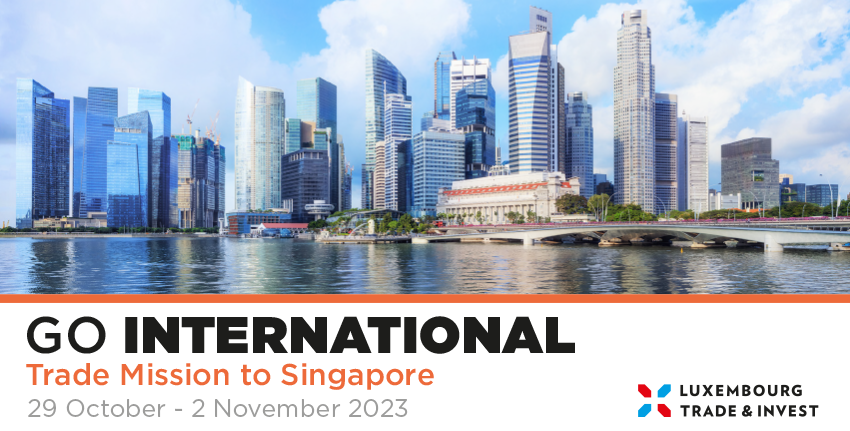 We invite you to take part in a trade mission to Singapore from 29 October to 2 November 2023.
Singapore is the largest trading and investment partner of the EU in the ASEAN region. Leading smart city, hub of South-East Asia, strong in circular economy, interested in space and having one of the best healthcare systems in the world, no wonder that Singapore and Luxembourg are often compared to each other: both are small nations but strong powerhouses.
This trade mission will provide a unique opportunity for companies to attend the Singapore Week of Innovation and Technology - SWITCH bringing together leaders, accelerators and investors from the Global-Asia innovation ecosystem, to visit Nanyang Technological University and to explore potential business partnerships in the areas of Digital Economy, HealthTech, GreenTech, and Space.
When? 29 October – 2 November 2023
Why? Check out the most important facts about Singapore.

PROGRAMME

REGISTRATION

Interested? Please register before 15 September 2023.

This trade mission is organised by the Luxembourg Chamber of Commerce, in close collaboration with the Luxembourg Ministry of the Economy, Luxembourg Embassy in Singapore and the Belgium Luxembourg Chamber of Commerce.

Please contact:
Ms Edith Stein
Senior International Affairs Advisor, South-East Asia
T. +352 42 39 39 - 482
Ms Na Shi-Bic
Senior International Affairs Advisor, East Asia
T. +352 42 39 39 - 364
Ms Vanessa Kirsch
International Affairs Administrative Assistant
T. +352 42 39 39 - 531
E. singapore2023@cc.lu
---
Attachments
Market_Watch_Singapore.pdf
PDF • 299 KB
TM_SINGAPORE_PROGRAMME.pdf
PDF • 334 KB