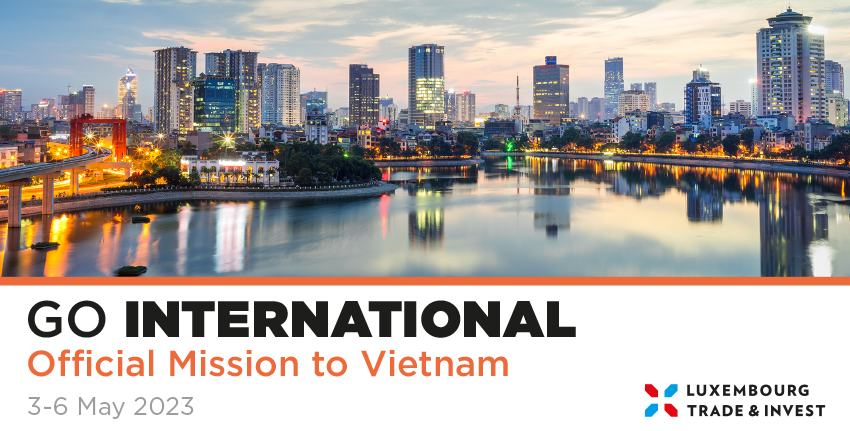 The Luxembourg Chamber of Commerce, in close cooperation with the Ministry of State, the Ministry of Small and Medium Sized Enterprises, the Embassy of Luxembourg to Vietnam, the Honorary Consulate in Ho Chi Minh City and BeLuxCham Vietnam, will organise an official mission to Vietnam, from 3-6 May 2023.
This year, Vietnam and Luxembourg celebrate 50 years since the establishment of diplomatic relations between the countries. Vietnam, with its young population of around 100 million people, has the fastest-growing middle class in the ASEAN region. Being centrally located in South-East Asia, Vietnam is a hub for companies to set up production and trading facilities.

The programme of the mission will include:

• b2b meetings;
• a Business Forum in Ho Chi Minh City with keynote speeches by H.E. Mr Xavier Bettel, Prime Minister and Mr. Lex Delles, Minister for Small and Medium Sized Enterprises;
• an official reception;
• the visit of Binh Duong, an extensive network of integrated industrial parks and urban townships advocating sustainability;
• as well as many networking opportunities during the days.
The mission will focus on Digital Economy, Logistics, Energy/Environment and Smart Construction.
When? 3-6 May 2023
Where? Ho Chi Minh City and Binh Duong
Why? Check out the most important facts about Vietnam here.

PROGRAMME

REGISTRATION
Interested? Please register before 27 March 2023.

This Mission is organised by the Luxembourg Chamber of Commerce, the Belgian-Luxembourg Chamber of Commerce in Vietnam, the Embassy in Vietnam, and the Ministry of State.


Please contact:

Ms Edith Stein
Senior International Affairs Advisor
T. +352 42 39 39 482

Ms Regina Khvastunova
International Affairs Advisor
T. +352 42 39 39 324
---
Attachments
PROGRAMME_OFFICIAL_MISSION_TO_VIETNAM_3-6.05.2023.pdf
PDF • 331 KB