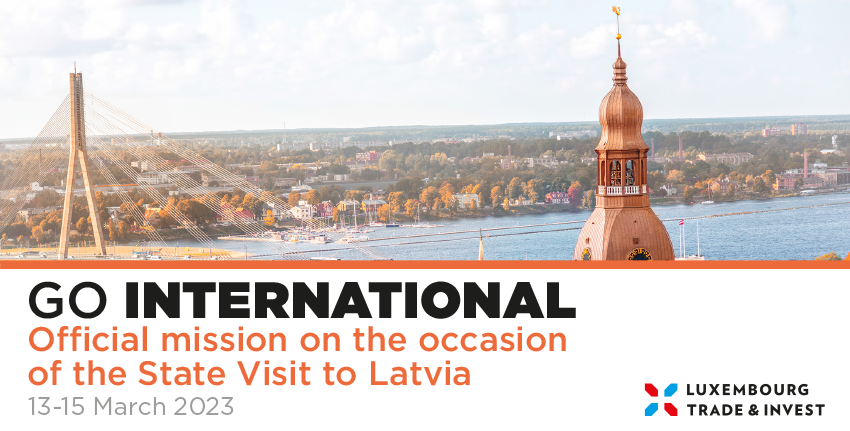 The Luxembourg Chamber of Commerce, in close cooperation with the Ministry of the Economy and the Embassy of Luxembourg in Warsaw (co-accredited in Latvia) will organise an official trade mission to Riga from 13-15 March 2023, on the occasion of the State Visit of His Royal Highness the Grand Duke of Luxembourg to Latvia.

There's a lot more that unites Luxembourg and Latvia than their similarities in size. Both countries are in the process of developing a circular economy strategy and are exploring opportunities in digitalisation. There is still a lot of untapped collaboration potential in these fields and discovering this potential is on the agenda of this upcoming mission.

The mission will focus on the following sectors: Digital and Sustainable Economy

What? Official Trade Mission
When? 13-15 March 2023
Where? Riga, Latvia
Why? Check out the most important facts about Latvia here.
PROGRAMME

REGISTRATION

Interested? Please register before 22 February 2023.

This event is organised by the Luxembourg Chamber of Commerce, the Ministry of the Economy, and the Embassy in Latvia.

Please contact:

Georgia KOSSMANN
Market Advisor Europe, International Affairs
T. +352 42 39 39 - 357

Na SHI-BIC
Senior International Affairs Advisor, East Asia
T. +352 42 39 39 - 364

Vanessa KIRSCH
Administrative Assistant, International Affairs
T. +352 42 39 39 - 531

E. latvia@cc.lu
---
Attachments
MERKUR_2023_LATVIA.pdf
PDF • 223 KB
Latvia_Delegation_Program_All_Final.pdf
PDF • 247 KB