Monday 17 Apr 2023
13:30 - 19:00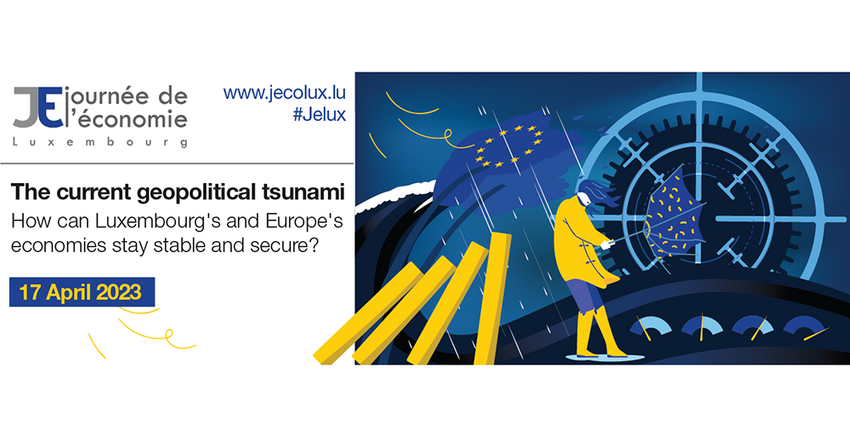 Organised by the Ministry of the Economy, the Luxembourg Chamber of Commerce and FEDIL – The Voice of Luxembourg's Industry, in cooperation with PwC Luxembourg, this year the Journée de l'Economie (JEcolux 2023) encourages discussion on this year's theme, "The current geopolitical tsunami: How can Luxembourg's and Europe's economies stay stable and secure?" The registration for the Journée de l'Economie 2023, taking place in the form of a physical event at the Chamber of Commerce in Luxembourg on 17, April, 2023. is now open.
For several years now, Luxembourg, Europe and the entire world have been living through turbulent times where the unexpected breaks all the rules. The words "pandemic", "war" and "recession" feel like throwbacks to the early twentieth century, yet they reflect today's reality. In 2023, individuals and countries worldwide face these scourges and their consequences, be it inflation, rising interest rates, falling purchasing power, the energy crisis, climate crises or social upheavals. These issues create concern for all citizens – regardless of their personal and professional situations, for organisations, companies, and governments.
As Europe and Luxembourg weather a geopolitical tsunami, how can we ensure our economies stay stable and serene while upholding our values? Which levers can – and should – be used by governments and businesses today and in the near future? How should Luxembourg prepare to ensure that its economy is sustainable? What are the roles and responsibilities of the European Union in this context?
We hope to see you at the Chamber of Commerce of Luxembourg on 17 April to discuss these questions and the crucial choices we need to make together. Help us address those geopolitical tensions, environmental, digital, and health-related issues and societal challenges needed to preserve our stability and security.
To register and for more information, click here.