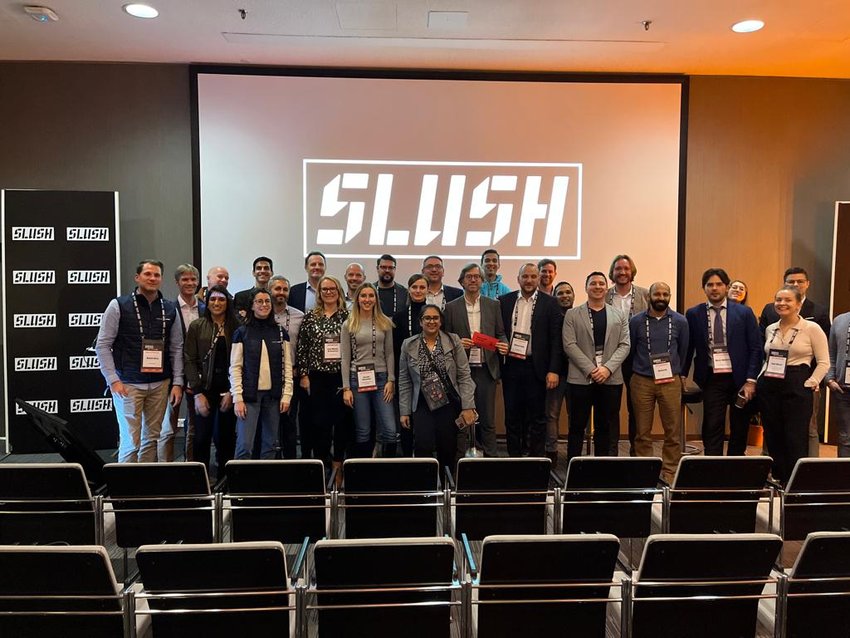 The Luxembourg Chamber of Commerce, in close collaboration with Startup Luxembourg, organised a visit to the Slush 2022 from 16th – 18th November 2022. With over 35 participants, the delegation encompassed institutions, startups, investors and business angels.
With tickets sold out months before the event, this year's packed edition of Slush witnessed crowded alleys flocked by attendees from all over the world. Innovative startup stands, country pavilions, corporates showcasing their innovative road maps are the main features of the Slush 2022. Unique to the Slush are the 1500 students who volunteer for the event with the dream of creating their own cutting-edge ventures in the future. This edition kept its promise of providing a wide panoply of opportunities thanks to the presence of qualified audiences, side events and matchmaking events. The event was inaugurated by Eerika Savolainen, CEO of Slush, who highlighted the 1 investor per startup ratio as well as the fact that 1M EUR will be raised in funding for the startup that wins the Slush 100 pitching competition.
Slush has grown into the largest single gathering of venture capital in the world – 2,200 investors ranging from VCs to angels, CVCs, and LPs, all looking for the next big thing. Slush 2022 brought together the world's leading founders, investors, executives, and media for a curated gathering of 12,000 attendees.
Luxembourg also hosted a side event with the objective to present its dynamic startup ecosystem. The session was moderated by Mr Bastien Berg of the Luxembourg City Incubator. In his opening speech, H.E. Mr Henri Schumacher, Ambassador of Luxembourg to Finland, expressed his joy to discover the strong participation from Luxembourg at the Slush as well as Luxembourg's reinforced ties with the Finnish ecosystem.
His Excellency's speech was followed with a presentation of the Luxembourg's startup ecosystem by Michele Gallo, Director Digital Technologies & Startup at the Luxembourg Ministry of Economy. Mattia Musetti, Advisor Business Development from Luxembourg for Finance, continued the session by projecting the investor scene and how it could be interesting to set up a fund in Luxembourg. The fireside chat with a Luxembourg-based GP included an interesting discussion between Stephane Pesch, CEO of the Luxembourg Private Equity & Venture Capital Association and Laurent Hengesch, Founding Partner of Ilavska Vuillermoz Capital.
The session was wrapped-up by with a discussion on scaling up from the heart of Europe, which encompassed a discussion between investors and entrepreneurs from Luxembourg namely: Teona Khubutia, Manager, Luxembourg Business Angel Network, Matias Mäenpää, Co-founder LEAP, Matteo Cernuschi, Co-Founder, ANote Music and Jordan Vannitsen, CEO & Co-Founder, Odysseus Space. The side event was concluded with a networking session amongst the participants.
The 2022 edition of Slush was certainly very promising. Given the success of this year's edition and the optimistic mindset that infused the event, Luxembourgish companies were very vocal about their impatience to attend the next edition.