Tuesday 18 Oct 2022 > Thursday 20 Oct 2022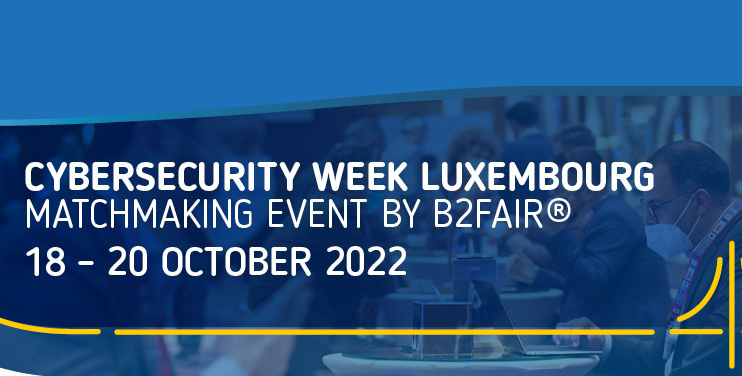 We invite you to participate in the Cybersecurity Week Luxembourg Matchmaking Event by b2fair® that will be organised from 18 to 20 October 2022 by the Enterprise Europe Network of the Luxembourg Chamber of Commerce, in close collaboration with the National Cybersecurity Competence Center Luxembourg, in the framework of the European Cyber Security Month.

The Cybersecurity Week Luxembourg 2022 intends to bring together the entire cybersecurity ecosystem and key international partners. The event will showcase a conference stream and an exhibition area, where each actor will be offered the opportunity to be visible and share its expertise with peers, potential partners, customers and new joiners. The event is intended to involve public and private actors coming from Luxembourg, the EU and beyond.

The objectives of the event are to help companies in the cybersecurity sector to explore international partnerships as well as to offer SMEs the possibility to get in contact with high-level IT security experts and to find suitable solutions and technologies in order to protect their company from cyber-attacks.
When? 18-20 October 2022
Where? LUXEXPO The Box
Participation conditions: 75 EUR / participant. If you are a Luxembourg company, please contact us by e-mail (cswl@cc.lu) for special participation conditions.

The event encompasses the following services:
2 days of qualified business meetings;
Access to the conferences & workshops of the Cybersecurity Week Luxembourg;
Personalised assistance before, during & after the event.

Interested? Please register before 23 September 2022: click here