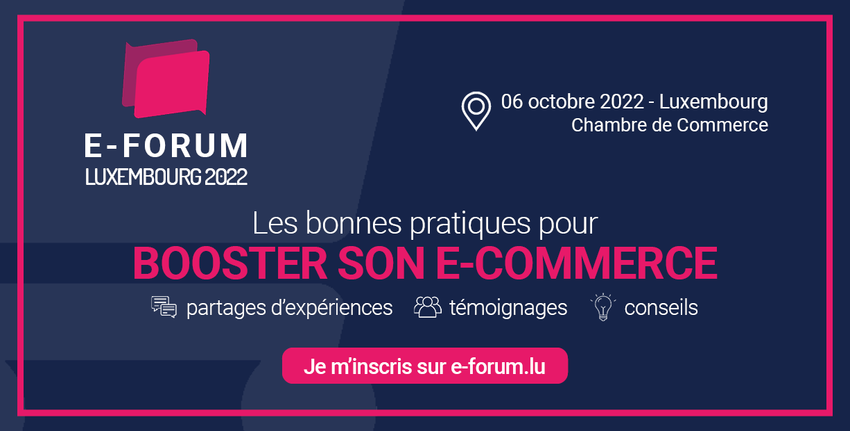 La House of Entrepreneurship et l'association eCom.lu, soutenues par la Chambre de Commerce Luxembourg et la clc, vous donnent rendez-vous pour une demi-journée dédiée à l'e-commerce le 6 octobre 2022 à partir de 14h00 à la Chambre de Commerce.
En une après-midi, l'événement fera le point sur les bonnes pratiques pour booster son e-commerce et dressera un tableau de l'évolution du secteur pour les prochaines années.
Le congrès E-FORUM Luxembourg 2022 donnera la parole à des experts reconnus, mais aussi à des entrepreneurs luxembourgeois qui ont mis en place des solutions concrètes dans des contextes très différents.
Pour découvrir les témoignages de ces e-commerçants (résultats obtenus et défis relevés) ainsi que de nombreuses informations vous permettant de développer votre activité de vente en ligne, rendez-vous le mardi 6 octobre après-midi pour le congrès professionnel E-FORUM Luxembourg.
Pour qui ?
Toutes les entreprises luxembourgeoises intéressées par la thématique et quel que soit leur secteur d'activité
Au programme :
Allocution du Ministre des Classes Moyennes et du Tourisme, Lex Delles
Allocution du COO et Directeur Entrepreneurship de la Chambre de Commerce, Marc Wagener
Comment les Etats-Unis et la Chine influencent l'E-commerce de demain ? Présenté par Betty Touzeau, PARIS2BEIJING
Les bonnes pratiques pour développer son e-commerce au Luxembourg Témoignages d'e-commerçants luxembourgeois
Présentation de eCom.lu et de la House of Entrepreneurship Présenté par Nicolas Gueuzurian (eCom.lu) et Laurent Lucius (House of Entrepreneurship)
Les évolutions à venir de l'e-commerce Présenté par Henri Isaac, Université Paris-Dauphine
Les défis à relever pour grandir en E-commerce Table ronde d'experts
Networking Drink
Au plaisir de vous voir nombreux !
CONTACT :
House of Entrepreneurship
14, rue Erasme, L-1468 Luxembourg
digital(at)houseofentrepreneurship.lu
Tél : ( +352 ) 42 39 39 - 840
-------
---
Attachments
Programme E-Forum
PDF • 222 KB