International Affairs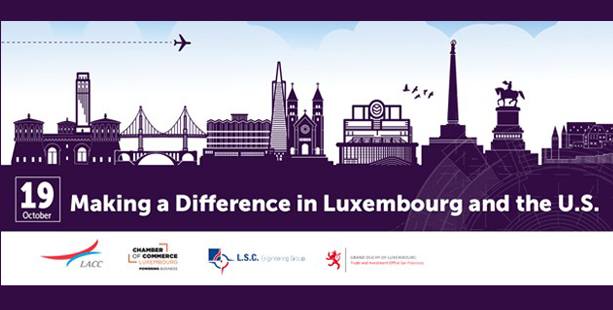 On October 19th 2021, the Luxembourg Chamber of Commerce, in partnership with the Luxembourg-American Chamber of Commerce in NYC (LACC), organized a joint webinar "Making a Difference in Luxembourg and the U.S." which aimed at presenting Daniel Da Cruz, the new Consul General and Director at the San Francisco Luxembourg Trade and Investment Office (LTIO).
Next, L.S.C. Engineering Group showcased some of their latest projects and an overview of Luxembourg's circular objective in general and the circular approach of the company specifically.
Nearly 50 participants logged in to listen to:
Daniel Da Cruz, Consul General & Director of the LTIO in San Francisco
Myriam Hengesch and Samuel Majerus from L.S.C. Engineering Group
Diana Rutledge, International Affairs, Luxembourg Chamber of Commerce,
A Q&A closed the webinar.
You can watch the full webinar under the following link if you missed it: https://www.laccnyc.org/videos/making-difference-luxembourg-us/