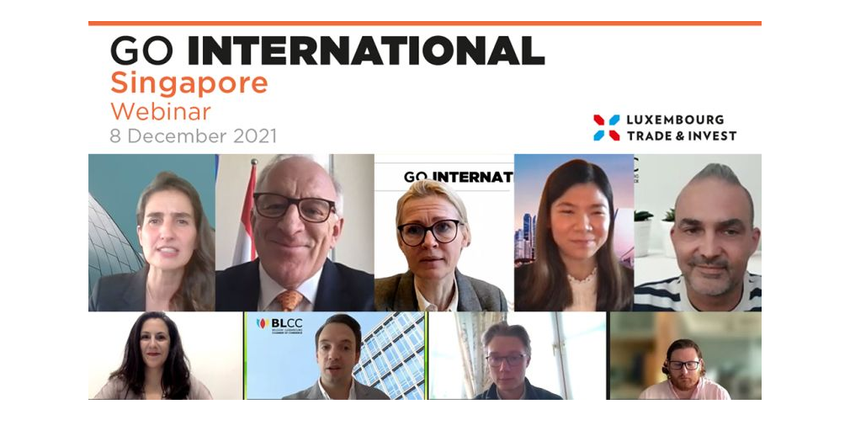 On December 8th, 2021, the Luxembourg Chamber of Commerce hosted the "Go International: Singapore" webinar, in close collaboration with the Embassy of Luxembourg to Singapore based in Bangkok and the Belgian-Luxembourg Chamber of Commerce in Singapore. The live event is part of the series of Go International webinars, aimed at introducing and updating on recent developments and opportunities in the Singaporean market, therefore promoting Singapore as a potential destination for Luxembourg companies interested in doing business in South-East Asian market.
The webinar was moderated by Ms. Isabel Alvarez Fernandez, President of the Belgium Luxembourg Chamber of Commerce in Singapore (BLCC), a trilateral Chamber of Commerce very active in Singapore and in South-east Asia.
The Opening Remarks were given by H.E. Mr. Jean-Paul Senninger, Ambassador of Luxembourg to Singapore, based in Bangkok. While Mrs. Cindy Tereba, Director International Affairs, Luxembourg Chamber of Commerce greeted the audience with a general review of the bilateral relations as well as the landscape of the Luxembourg companies active in Singapore.
The Keynote presentation: Doing business in Singapore was given by Ms. Alyssia Lam, Regional Director, International Operations – Europe (Benelux) Singapore Economic Development Board
Singapore Economic Development Board is a government agency under the Ministry of Trade and Industry, responsible for strategies that enhance Singapore's position as a global center for business, innovation, and talent. Ms. Alyssia Lam introduced EDB's mission and presented Singapore as an economic powerhouse, its competitiveness includes but is not limited to the business-friendly environment, the global connectivity and its future ready infrastructure.
At the testimonial session, Mr. Christophe Derdeyn, Managing Director, Delaware Consulting Asia-Pacific Pte Ltd gave a presentation on 'Cloud digitization of enterprises in Singapore', highlighted the sector and its landscape in a very concrete and comprehensive way within 10 minutes' time.
The last session of the webinar was a panel discussion & testimonials: drivers of a successful business in Singapore, moderated by Mr. Georges Sander, representative of Luxembourg at BLCC board with as panelists: Mr. Benjamin Soubies, Managing Director, J-APAC, Talkwalker; Ms. Carina Rogerio, Managing Director & Founder, SeeAre and Mr. Marc Albert, Mobility Analytics, Motional. The Luxembourgish experts living in Singapore shared with the audience their motivation, experience and success stories about 'why Singapore and how to enter into the market and what you should know about doing business in Singapore'.
In the framework of this series of webinars, companies can request their video-consultation meeting with market experts from the Luxembourg Trade and Investment Network and the Luxembourg Chamber of Commerce.
Please also check out webinars to update and help companies leverage available support initiatives.
Visit www.odl.lu, the one-stop shop for the promotion of exports and financial incentives, to efficiently promote your products and services abroad.
Watch the full webinar hereunder if you missed it: