Nordea Bank Luxembourg S.A.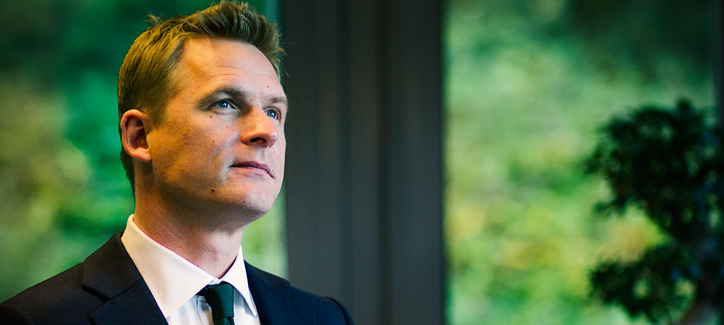 Nordea Bank Luxembourg S.A. has 400 employees, including branch offices in Switzerland (30 employees) and Singapore (10 employees), and a representative office in Spain. The Nordea Group has a total of 30,000 employees.
Nordea Bank Luxembourg S.A. offers a full range of private banking products and services, including wealth management and wealth planning. Our vision is to be acknowledged as a leading international wealth partner with a Nordic foundation. We are part of the Nordea Group and have been entrusted with the important mission of delivering great customer experiences for our wealthy clients who choose to live and do business outside the Nordic region.
Interview with Thorben Sander, CEO Nordea Bank Luxembourg S.A
What are your current challenges?
European economies are still fragile while Asia offers new opportunities. Industry margins remain under pressure, but we face increased demand for sophisticated international wealth-management offerings. Our clients, as a whole, are getting younger, better informed and expect high value for money. At the same time, we have increased regulatory and compliance requirements, adding costs and complexity into our daily work. With these challenges in mind, we focus on continuing to deliver strong solutions to our clients.
What successes are you particularly proud of?
Nordea International Private Banking and our almost 400 employees are in a strong position to grow, which is not a given in this environment. However, we need to be humble about the challenges we are facing. Over the past months, we have worked hard on adjusting our strategy and organisation to make sure that we are focused on the right things going forward. For us, this means even stronger focus on clients, our core markets, development of our people, being on top of all the relevant regulatory changes and exploiting the opportunities of digitalization. It has been an inspiring process, and I am proud of the strong commitment and involvement from all of our employees. I am confident we will succeed.
I am also very proud of being part of the Nordea group. Our industry has been struggling since 2008, but Nordea emerged stronger from the crisis to become the 5th or 6th largest bank in Europe today. We succeeded, I believe, because we are faithful to our relationship strategy of knowing, advising, servicing and committing to our customers – on sunny as well as on rainy days. This, combined with a strong foundation of prudent cost, risk and capital management, has proven to be a great formula for success.
What main challenges is the banking sector currently facing?
As mentioned before, our industry is changing rapidly and client demands are increasing, as is the added complexity of new regulations.
We need to change and develop to create even better solutions for our clients. In all processes, we must improve and deliver high quality in a cost-efficient way. If we do not, we will be challenged by high-cost, low-quality solutions.
If you had the possibility of making changes in the banking sector, what would they be and how could the Chamber of Commerce support you in this?
If we are to succeed and deliver even better solutions for our clients, we need the best people in all areas: IT, HR, Banking, Legal/Compliance, etc. This is why it is so important that all the relevant authorities in Luxembourg cooperate to attract highly skilled people. Indeed, one of this nation's successes, for decades now, has been the ability to secure strong competences. On top of that, we need the best business environment to operate in.
It is an important advantage in Luxembourg which we should sustain and even strengthen. Politicians, regulatory bodies and the industries cooperate on keeping Luxembourg an attractive place to live, work and do business. I believe the cooperation is professional and strong. In this regard, I am counting on the Chamber of Commerce and I can promise that we in Nordea Bank are ready to contribute.
A Short history of Nordea Bank
Nordea Group is essentially the merger of four major Nordic banks: Merita Bank in Finland, Nordbanken in Sweden, Unibank in Denmark and Christiania Bank og Kreditkasse in Norway.Uniting the banks that formed Nordea was the shared vision of being the leading financial services group in the Nordic and Baltic regions. The combined entity has, owing to significant structural changes and merger processes, been able to steadily improve customer and employee satisfaction, as well as shareholder value. At the same time, Nordea strives to contribute in a positive manner to the societies in which it operates. Today, Nordea Group is the 5th or 6th largest bank in Europe. Nordea Bank S.A. in Luxembourg is a subsidiary of Nordea Bank AB and was incorporated in 1976.
Photos: Pierre Guersing