Conférence/Séminaire/Table ronde
Monday 2 May 2022 > Wednesday 4 May 2022
de 9h00 à 18h00
House of Training, Centre de formation de la Chambre de Commerce, Luxembourg Kirchberg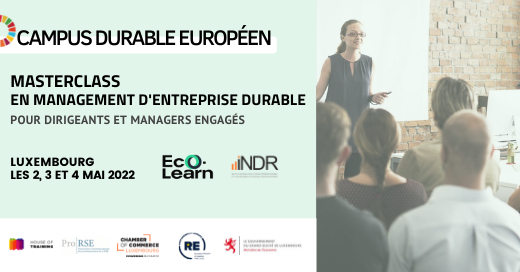 Cette année marque le lancement du « Campus Durable Européen » avec la 1ère édition de la formation en Management d'Entreprise Durable, organisée par l'INDR et Eco-Learn, un leader de la formation professionnelle au service de la transition durable des entreprises en France.
Cette première édition 2022 se tiendra en présentiel les 2,3 et 4 mai à la House of Training (7, rue Alcide de Gasperi). La première journée est optionnelle et non obligatoire pour les spécialistes et experts de la RSE.
Un webinar d'information se tiendra le mercredi 20 avril de 12h à 12h30 afin que vous puissiez poser toutes vos questions aux formateurs et organisateurs. Inscrivez-vous sans plus attendre : https://www.eventbrite.fr/e/billets-webinar-campus-durable-europeen-310571817667?aff=Affiliatemail
Du 2 au 4 mai, ce parcours vous permettra de décrypter le contexte général en matière de développement durable et de RSE, et de développer le socle de connaissances nécessaires au pilotage des démarches de durabilité en entreprise, avec notamment :
Les nouvelles exigences issues de la réglementation européenne (Corporate Sustainable Reporting Directive (CSRD), Taxonomie, The Sustainable Finance Disclosure Regulation (SFDR), Corporate Sustainability Due Diligence, …)
L'approfondissement des outils et des pratiques qui structurent une démarche de progrès (matérialité et mesures d'impact, standards et référentiels, reporting extra-financier,…)
L'analyse de modèles d'affaires durables
Des témoignages d'entreprises françaises et luxembourgeoises et des échanges de bonnes pratiques et retours d'expériences entre participants
Informations pratiques
Pour qui ? CEOs, dirigeants économiques et financiers, managers engagés
Quand ? 02, 03, et 04 mai 2022 de 9h00 à 18h00
Comment ? Format présentiel, langue française
Où ? House of Training, Centre de formation de la Chambre de Commerce, Luxembourg Kirchberg
Délivrance d'un certificat de participation à la formation « Management d'entreprise durable » délivré par Eco-Learn, INDR, House of Training et le Ministère de l'Économie.
Cette Masterclass permettra à ses participants de bénéficier d'un certificat de participation qui donnera accès à la certification « Management de la transition durable », délivrée par HEC Paris.
Programme et modalités pratiques d'inscription : https://www.houseoftraining.lu/training/campus-durable-europeen-masterclass-en-management-dentreprise-durable-9449