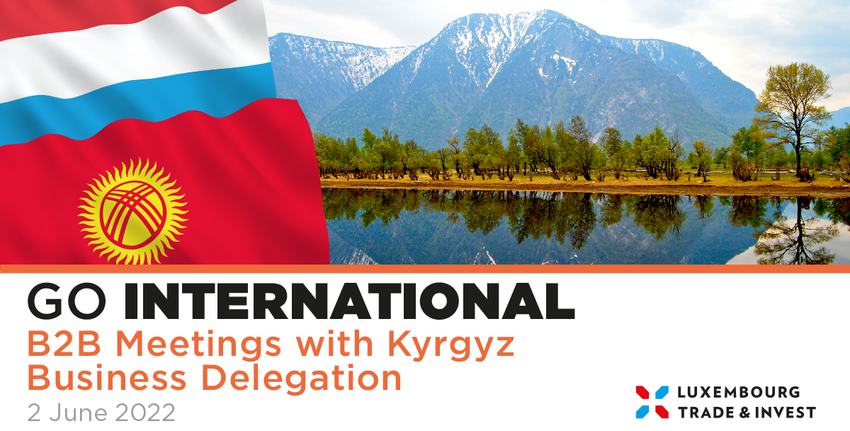 On the occasion of 30th Anniversary of diplomatic relations between Luxembourg and Kyrgyzstan, the Luxembourg Chamber of Commerce, in partnership with the Embassy of the Kyrgyz Republic to the Grand Duchy of Luxembourg, will host B2B meetings with Kyrgyz companies coming to Luxembourg on 2 June 2022.
Kyrgyz (3.5 million inhabitants) is a small open economy which is expected to record a growth rate of more than 5% this year. The country is characterized by an abundance of metallic resources, the exploitation of which represents 30% of its GDP. The country also offers great potential for tourism and hydroelectricity (currently, only 10% exploited), while occupying a strategic position and transit corridor between China, Russia and Europe.
The event will focus on the following sectors: Construction, Manufacturing, IT and Fintech, Food (honey) and Services.
You will find here the list of the Kyrgyz companies to select for the B2B meetings
When? 2 June 2022 from 10.30 am to 132.30 pm
Where? Luxembourg Chamber of Commerce
This B2B event is free of charge and open to all companies based in Luxembourg.
Interested? Please register before 20 May 2022
ANY QUESTIONS?
The market advisors of the Luxembourg Chamber of Commerce remains at your disposal for any further information.
Nil BLANCHY
Senior International Affairs Advisor
T. (+352) 42 39 39 - 338
E. nil.blanchy@cc.lu
Regina KHVASTUNOVA
International Affairs Advisor
T. +352 42 39 39 - 324
E. regina.khvastunova@cc.lu
---
Attachments
Delegation description
PDF • 139 KB