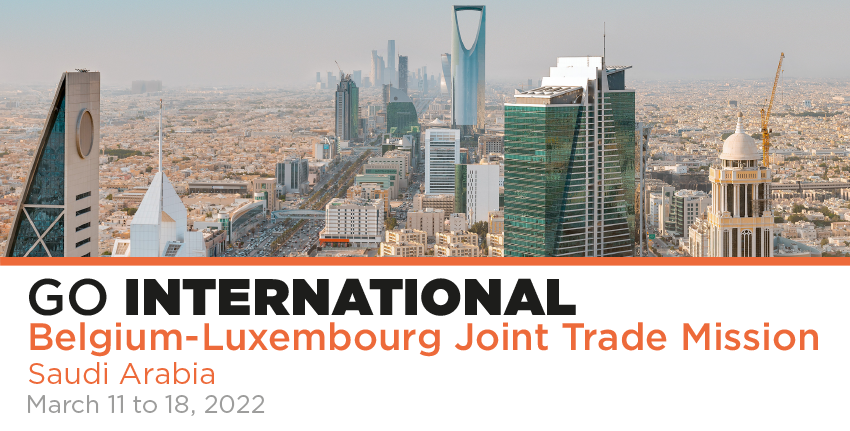 The Luxembourg Chamber of Commerce, the Walloon Agency for Export and Foreign Investment (AWEX) and the Arab-Belgian-Luxembourg Chamber of Commerce (ABLCC) are pleased to announce a multisectoral economic mission to Saudi Arabia from 11th to March 18th , 2022 organized jointly with the support of the Embassy of Belgium in Riyadh.
First economic power of the Middle East, Saudi Arabia is the richest Arab country (1st regional economy and 19th in the world). Taking advantage of a large budget surplus, the country is currently making a giant leap through the digitalization of its public services and the launch of gigantic infrastructure projects. These projects are part of the "Vision 2030" roadmap, which aims to challenge the foundations of the traditional economy to push investment in innovative sectors.
For the first time in its history, this market of 34 million inhabitants is now experiencing a period of unprecedented socio-economic changes and is fully counting on the diversification of the economy to free itself from its dependence on oil.
This mission, organized in the cities of Riyadh, Jeddah, and Dammam, will therefore be an opportunity for the participating companies to seize the exceptional opportunities offered by the "Vision 2030" roadmap while taking advantage of the network, expertise, and logistical organization of AWEX, ABLCC and the Luxembourg Chamber of Commerce.
In order to take full advantage of the potential represented by this market, it will focus exclusively on the following sectors: health, environment/energy, entertainment, agri-food, construction, and transport/logistics.
The latest version of the draft programme can be found here.
If you wish to participate in this Official Mission, you are kindly requested to duly complete the linked registration form no later than February 15th, 2022. Business meetings cannot be guaranteed anymore past this date.
For further information about this upcoming mission, feel free to contact Ms. Edith Stein (Tel: +352 42 39 39-482), email: middleeast@cc.lu.
Would you like more information about opportunities in Saudi Arabia? Feel free to watch the ABLCC webinar at this link: https://www.youtube.com/watch?v=63isegcWyXY
---
Attachments
PROVISIONAL_PROGRAMME_MISSION_SAUDI_ARABIA__002_.docx
DOCX • 218 KB
Questionnaire_Mission_to_Saudi_Arabia_11-18.03.2022__002_.docx
DOCX • 129 KB